POC Instruments and Tests
We offer an increasing selection of Point Of Care instruments/analyzers, diagnostic devices that are used to obtain diagnostic results, while with the patient or close to the patient.

The QuantOn® technology by Preventis enables the quantitative evaluation of a lateral flow rapid test thanks to a product-specific Preventis app. By scanning the test cassette, the app determines the quantitative measurement result based on the color intensity of the test bands. This is highly valid and comparable with parameter-specific gold standards.
Calprotectin, Occult blood test, Gluten Detect, Vitamin D and many other rapid tests are available from German Preventis.
Calprotectin – rapid differentiation in unclear intestinal complaints
Calprotectin is considered an important inflammation marker in the diagnosis and treatment of complaints in the gastrointestinal tract. Close monitoring helps to monitor the effectiveness of therapy and thus increases its safety.
Preventis SmarTest® Calprotectin Home is the successor of QuantOn Cal® and is also based on the unique QuantOn® Technology, an innovative combination of rapid test and app.
Test principle
The test system consists of a rapid test that detects calprotectin in stool and a smartphone app that quantitatively evaluates the result of the rapid test by scanning the test cassette. This result is linked to the answers of a clinically validated questionnaire and transmitted to the treating healthcare professional on request.
SmarTest Calprotectin app: To evaluate the test, you need the SmarTest Calprotectin app, which is available in the App Store or Google Play Store. Smartphones based on iOS are prepared for the testing by our technical support. Android based devices that are not yet qualified by Preventis can be qualified for the test individually with the help of camera test card, if your smartphone meets certain minimum criteria.
Detection of invasive fungal infections
TECOmedical FungiLine contains different antigen and DNA based assays for the detection of invasive fungal infections in humans.
TECO®FungiLine Rapid Fluorescence System
Fast Aspergillus Galactomannan Antigen Assay
Fast Aspergillus IgG Antibody Assay
Fast Candida Mannan Antigen Assay
Fast Candida IgG Antibody Assay
Fast Cryptococcus Antigen Assay
Nexus IB10 Analyzer
The Nexus IB10 is an immunoanalyzer that quantitatively measures in-vitro antigens or antibodies in whole blood or plasma samples on a dedicated test disc. The Nexus IB10 system combines chemistry with microfluidics and centrifugal flow to separate cell free plasma from whole blood. The plasma then moves through a channel, mixes with immunoconjugates, and is quantitatively measured.
Unique assays, penKid, a biomarker for real-time kidney function, bio-ADM, the biomarker for endothelial function and DPP3, a biomarker for cardiac depression.
The automated testing process allows fast, accurate test results with minimal maintenance.
Results reported in 20 minutes
An intuitive user interface with minimal interaction from the user
Small footprint for optimal space utilization
Built in self-test feature minimizes hands on maintenance
No sample preparation needed. Blood separation takes place in the
Nexus IB10 instrument
Test discs stable at room temperature up to 30 days* (*Consult the individual product IFU)
Connects to Laboratory Information Management System (LIMS)
Built-in thermal printer
The all new Veros COVID-19 delivers fast, accurate and instrument-free testing right at the point of care. Now qualified clinicians can simply swab, swirl and test, all in about 15 minutes – making testing possible anywhere, and accessible to everyone.
Performance comparable* to lab-based RT-PCR "gold standard"
True molecular diagnostic technology (not an antigen rapid test)
Fast results (around 15 minutes per test)
Free from instruments or readers
no throughput constraints
run multiple tests simultaneously
no outlet or power cable requirements
Disposable test; Lysis buffer solution deactivates virus on swab
enhanced safety and reduced cross-contamination risk
Pushkang MS-100 Features
Whole blood sampling
Internal centrifuge
Free combination of lyophilized discs
Instrument miniaturization, lyophilized reagent pre-packaged design
Fast, accurate and portable
Test items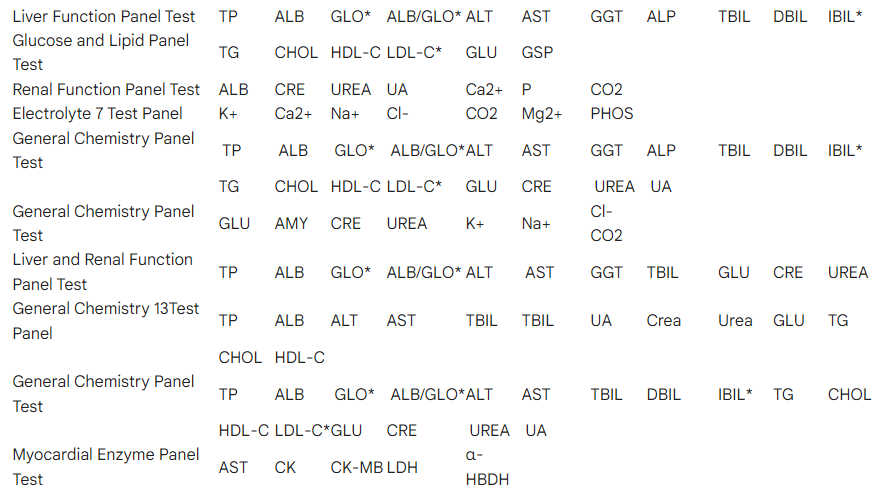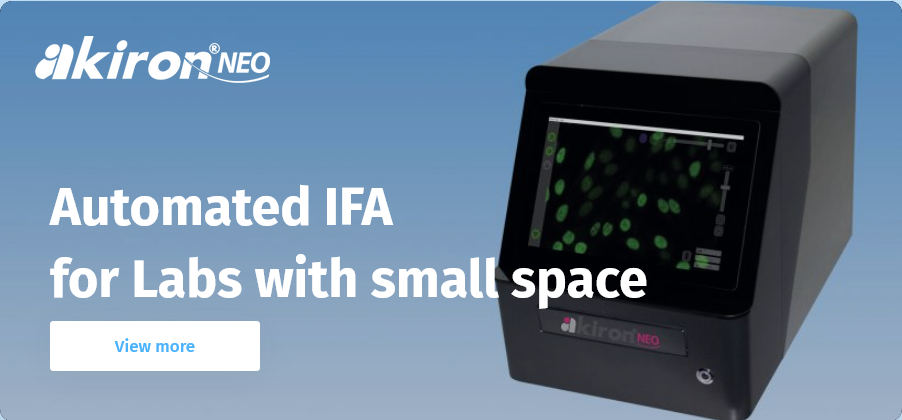 The closest one get to automated IFA. akiron® NEO is a fully automated, AI based, standardized imaging and data processing device for immunofluorescence assay used in the diagnosis of autoimmune diseases.
An easily operated imager providing high quality results in a short time, akiron®NEO proves its worth every day in the lab. The small footprint renders it an ideal solution for diagnostic laboratories with small space. Applications of the akiron® NEO can be found in the field of immunology, especially in routine tests for the detection of autoantibodies as HEp-2 cells (ANA) and  granulocytes (ANCA). Tissues can be analysed as well.